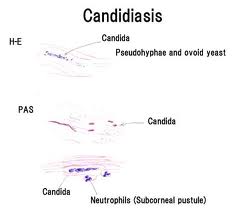 Systemic candidiasis is fungal infection mostly identified in the people with HIV. Even systemic candidiasis is considered as one of the many symptoms of HIV progression. An HIV patient faces frequent outbreaks of systemic candidiasis when the condition of his health worsens.
Systemic candidiasis occurs in mouth; throat; vagina; windpipe and even on the skin. But the most common places are mouth and vagina. When candidiasis gets severe it can spread throughout the body. And in rare cases it can also becomes life threatening.
Causes of systemic candidiasis:
The fungus called Candida is responsible for candidiasis. We carry this fungus in our mouth, vagina and digestive tract. When you have a strong immune system this type of fungus doesn't get the chance to grow or spread easily.
But a person with weak immune system tends to get affected by Candida. It grows and causes infection due to poor immune system. Candidiasis is difficult to treat when you have been suffering from faulty immune system for long.
Diabetes, pregnancy, iron, vitamin B 12 or zinc deficiency increase the chance of systemic candidiasis.
When you suffer from severe depression or stress your immune system gets weak and then naturally you tend to get affected by candidiasis.
A cancer patient is also inclined to get affected by systemic candidiasis as chemotherapy weakens the immune system badly.
Types of systemic candidiasis and their symptoms:
Vaginal candidiasis:
When your vulva or vagina gets infected by yeast, it's called vaginal candidiasis.
White-yellow, smelly, thick patch occurs accompanied by itching, swelling and burning sensation.
When it gets severe you get painful experience while walking and also during intercourse.
Oral candidiasis:
Oral candidiasis are also called thrush. It develops in the mouth and spread along the windpipe.
White or yellowish spots or coatings are visible in mouth.
Burning sensation in mouth and altered sense of taste.
Esophageal candidiasis: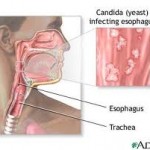 When throat or windpipe is targeted by fungus, it's called esophageal. Basically esophageal indicates a serious condition. This affects mainly an HIV positive patient.
This can be accompanied by thrush.
Pain during swallowing, nausea and chest pain are the main symptoms.
This can spread into stomach and as far as the intestines.
Cutaneous candidiasis:
Candida can also infect the skin. It may occur in areas like armpits, under the breasts and groin. This type of skin infection is called as Cutaneous candidiasis.
This infection may also be seen around burn and cuts.
There is red eruption in the skin.
The eruption may be coated by white and wrinkled layer.
Mild burning sensation remains.
Infection may also be seen in fingernails and toenails.
Affects mostly those that work with water for long and therefore has to keep hand in water for hours.
Systemic or disseminated candidiasis:
when the infection covers full body then this is called systemic or disseminated candidiasis.
This is a severe candidiasis and in some cases life threatening.
It can infect the eyes, kidneys, liver, heart, genital tract and joints.
This mostly happens in people with low white blood cell counts.
Treatment for systemic candidiasis:
There are many drugs and medications available to treat systemic candidiasis. And these medications are mainly divided into two parts, such as topical or local and systemic. Topical drugs are active only on the infected part but the systemic medicines function through out the body.
Topical medication: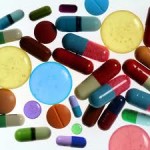 For Systemic candidiasis doctors at first prescribe local or topical medications.
Main topical medicines are amphotericin B suspension, econazole, clotrimazole and so on.
For thrush mouth fresheners are effective
lozenges are also effective for oral candidiasis
Creams and ointments are prescribed for skin and nail infections.
Systemic medication:
Systemic medication comes into play when the infection becomes severe. Therefore doctors opt for systemic method for esophageal and disseminated candidiasis. Actually topical medicines can't fight with these kind of candidiasis. Ketoconazole, Itraconazole, fluconazole are the effective systemic medications.
If you want to read about effective solutions for systemic candidiasis is the site to visit. Here you can read from a holistic system of cure shared by former yeast infection sufferers. Go and check this yeastinfectionnomore.com site to know more about this disease and its treatment.